OK, So now that the dust has settled a bit, let's get to the nitty gritty of Brady's cabin-istic pad, shall we?
Paint: Coventry Grey by Benjamin Moore color matched at Lowes in Olympic no-VOC paint.
Crib:
As I said before, we snagged our crib off Pottery Barn Kids' website, along with the toddler bed conversion kit and the mattress. Originally, the crib was $699 but we caught it on sale for $559.99.. THEN, miraculously I got a 20% off Friends & Family discount postcard in the mail THAT WEEK which brought our total down just beautifully. So, instead of paying $927 (including the crib, mattress and conversion kit), we walked away only spending $629.40. Oh! And you see that little outhouse nightlight? How stinkin' cute is that? My mother-in-law finds the neatest stuff, I swear.
Swivel Glider:
You guys. Talk about taking F.O.R.E.V.E.R. to decide on something. I went to about 5-6 stores (multiple times each) to look for the best, most cost-efficient, not too big, not too small chair for Little Guy's room. I knew we needed comfy and durable but also not-so-fancy since it'll probably be puked and peed on. Too bad my taste had other plans. Once I FINALLY chose what I hoped would work in his room I was faced with a few hurdles regarding fabric, cording and production time. I didn't get the dad-burn thing ordered until I was 32 weeks pregnant. Fail. BUT after price shopping I ordered it from Rolesville Furniture for a whopping $479 - can't beat it. AND it made it on time so all's good.
Dresser:
After scouring Craigslist for months I found the PERFECT dresser. My plan all along was to find an antique-looking beaut with a curvy top and curvy little legs. I wanted to stain the top to match the crib and paint the rest a teal blue to add a pop of color to the room. Wellllll I found this one and couldn't resist. It was already teal, distressed, and ohhhhhhh the curves! It was a set with a larger tall-boy style dresser, but she agreed to selling this bad boy separately and we scored it for $200! DONE!
Oh, and I added a little flare to the dresser…
I have a small love for houdstooth and was determined to work it into his room somehow. I was headed out the door to look for wrapping paper to line the drawers with and remembered I had this blue houdstooth wrapping paper. HOT DOG! Measured drawer bottoms, cut the wrapping paper to fit, fought off a rambunctious cat trying to eat the wrapping paper, and used double-sided tape so they aren't too perminant. There you have cheap and easy drawer liners!
Rug: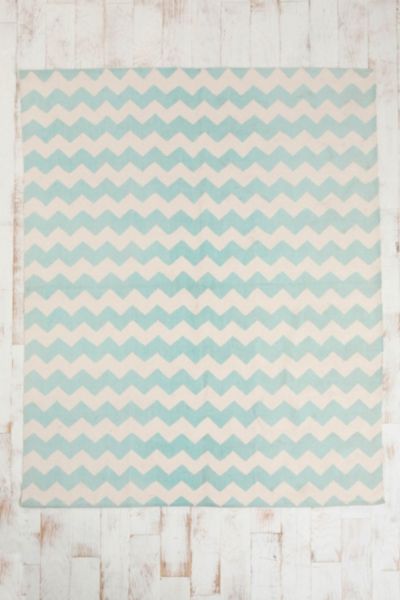 $39 From: Urban Outfitters (3x5)
Threads:
Joel Dewberry Modern Meadow Picnic Plaid Pond. I have the crib skirt, a crib sheet and a pillow for the glider, all in this fabric. Love.
Joel Dewberry Modern Meadow Nap Sack in Grass. A crib sheet and the curtains pull in a punch of green to his grey and teal cabin :)
Originally, my plan was to have a nice lady make the crib skirt and crib sheet off Etsy. I also had planned to order extra yards of fabric from her so I could make no-sew curtains and a pillow for the glider. But my Grandma Jones was NOT having that. Yes, I knew she was fully capable of making Baby Boy's bedding, but the last thing I wanted to do is put her to work. However, she insisted, as grandma's do and of course won that battle. She told me how much fabric to order and I had it shipped to her house. I ordered enough fabric to make the crib skirt, full panel curtains, a pillow for the glider, and 2 crib sheets. What would have been over $300 to Miss Etsy ended up costing only around $140 since I only had to buy fabric. Booya! THANK YOU GRANDMA!!! I must give her friend credit who helped her do most of the bedding.  
Pendant Light:
Thanks to Pinterest I got the fab idea to browse the home and garden section of Lowes Home Improvement when searching for the perfect light for little boog's room. The planter section was a bit picked over being November and all, but we found this guy sitting alone on a shelf begging for us to take him home. We mosied over to the light section and grabbed a pendant light kit. All hubs had to do was take down the existing ceiling fan, drill a hole in the bottom of the planter, attach the pendant kit and bam - a cool rustic bucket light on the cheap! Like $25 cheap..
Ok ok, so to the part EVERYONE's been asking about…
The Ladder:
This jewel came from my mother-in-law as a shower gift. A fly-fishing basket, a tin bucket and a square woven basket were hanging from the hooks all filled with "night night" books, "tubby time" bath stuff, and "let's play" assorted toys. Those ".." sayings were written on chalkboard signs which I'm definitely still using. I just switched out the baskets so I could have a place for all of his books since we really don't have much of a book shelf in his room. She purchased the ladder at an antique store but added some paint colors and some varnish to jazz it up a bit. She did an UH-MAZING job. Future plans for this thing (ya know, once the bambino begins climbing) include hanging it on the wall and putting framed pictures between the pegs.
Lamp:
My awesome co-worker, Kathleen, gave us this lamp as a shower gift, which she snagged at Target. It is PERFECT for little guy's room, don't you think?
Wooden Crates:
My dad spotted these at a yard sale and we walked away paying only $5 for BOTH. These things go for like 40 bucks on Craigslist EACH! +1 for Gramps!
The changing table caddy is an old crate that came divided into four sections that I found at a local antique store for $18. Originally I was going to hang it on a wall as a little shelf unit, but it's perfect on the dresser. Keeps things nice and organized while sticking with the theme of course. :)
Frame Collage:
White Frames: Ikea
Forest Print: Etsy
Deer Head: I googled a silouhette of a deer head, printed it out, traced it and cut it out of poster board, and then glued it to scrapbook paper from Michael's. I bought a large book full of scrapbook paper that coordinated with his room colors so I could use it for projects such as this. I've also been able to use this paper as matting and backgrounds for a frame collage in our bedroom. Double score.
"B": Same thing - traced a "B" that I found on Google onto scrapbook paper and slapped it on another piece. Framed it up and done.
"You are my I love you" Print - mentioned here.
"It's a boy!!!" - This is what the ultrasound tech gave us in an envelope to give to party city when we did our gender reveal. I definitely wanted to keep it so I thought, "why not frame it?" Slapped it on scrapbook paper and there you have it.
Button Initial Pendant Banner:
Again, mother-in-law. This lady is CRAFTY y'all. You give her your vision and she runs with it. Love that woman.
Bird Mobile:
The minute I spotted one of these online a year or so ago I knew I wanted one in my future child's nursery. Regardless of my babe's gender this was the very first thing I was certain would go into their room. I followed directions from two blogs: here and here. I got the fabric from Walmart, in their fabric and sewing section. They sell small 10x10 squares for like $.97 each so I got an assortment of fun, colorful, patterned ones. My grandma and mom came to Raleigh one Saturday and we made the birds via assembly line. Mom was cutting from the pattern, I was ironing and putting what fabrics I wanted together (for their backs and bellies) and my grandma was sewing them together. We filled the first one with cotton balls but it was way too lumpy. My mom suggested filling them with rice - GENIUS! - so we did and later that night I handsewed their tails to close them up. I snagged some limbs from outside, gorilla glued the birds to the branches and then handsewed them on to add stability. I gave the task of hanging the mobile to Aaron and his dad because I knew it'd be quite the balancing act. It was probably the hardest part of the whole project - Good job boys! My advice to you — use the cotton stuffing - it'll be lighter and easier in the long run.
Children's Book Bird Houses:
THIS. Oh man. The second I saw it on Pinterest I knew I had to do it. I didn't know how persay, considering the link didn't come with instructions but by golly I was going to figure it out.
My mom and I went to a local used book store and dug until we found some fun, colorful classics to use: Oh the Places You'll Go, Winnie the Pooh, Alice in Wonderland and Twinkle, Twinkle Little Star.
I tore out the majority of the pages, leaving about 4 in the center of the binding. I folded the pages and sealed their edges together using a hot glue gun. Then I placed them tucked close together, working from the binding out, then layering them on top of each other to make a full, tall bird house.
Total project: Around $15
And there you have the gist of Brady man's lil cabin. A HUGE thank you to such wonderful grandmas (his and mine!) who filled this nursery with love and generosity. — oh and Brady's Pop Pop! I wanted a room that was different, unique, craft-filled and could last through his toddler years with minor adjustments. Mission accomplished!